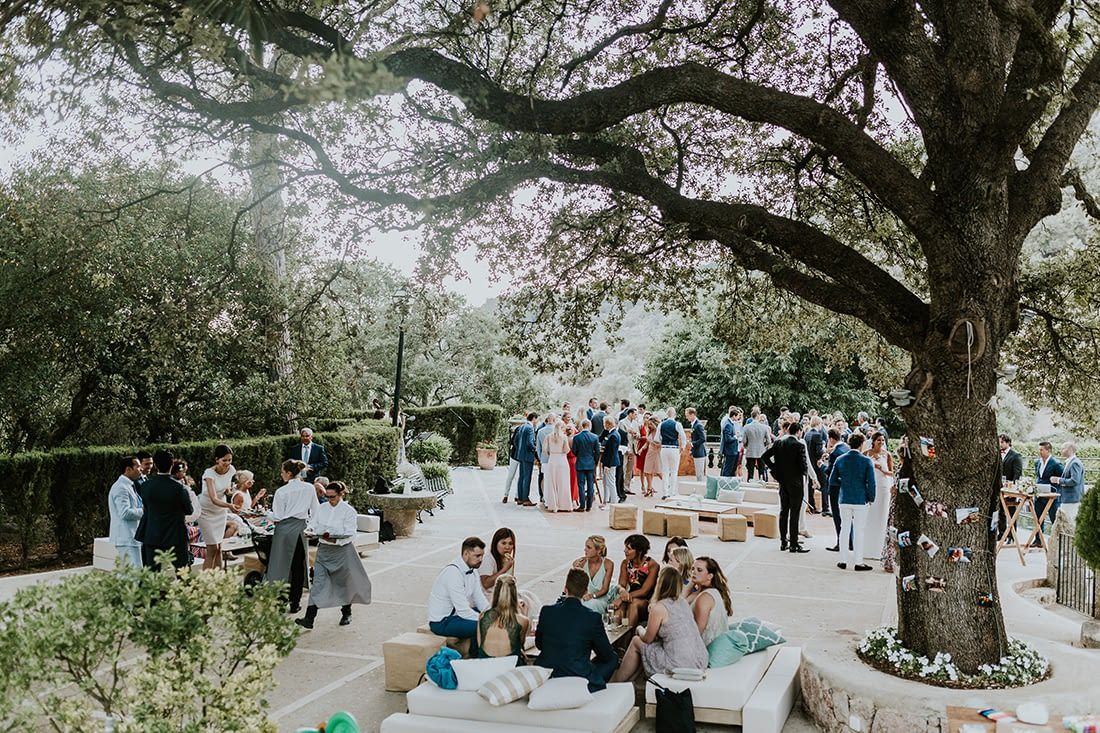 Getting married is a remarkable experience in anyone's life, regardless of that person's nationality. It is a day of utmost importance to any couple, and that is why the celebration must be regarded and approached in the same way.
In the past, couples found it more difficult to understand and appreciate the amount of work wedding planners had to undertake, as they did not know how difficult this profession is and all the issues we have to deal with.
Nowadays, given the social importance of a wedding and the extensive information posted on the internet and social networks about these celebrations, the bride and groom respect and value the scheduling and development of a wedding, as they are aware that the planning (though it may seem a simple, beautiful and even glamorous job) is actually a very complex task.
Planning a wedding requires training, a comprehensive knowledge of the industry and tremendous dedication so that everything turns out perfectly; only a professional with years of experience in this field can ensure the best result. Relying on a person who knows how to plan, coordinate and manage every aspect and detail of a wedding, but also is in charge of designing and styling it to your needs, advising you at all times, is priceless!
Every couple is different – they have their own taste, preferences and values; that is an indisputable fact. ​​And that's the reason why there all sorts of wedding styles, and consequently, different types of wedding planners. Meeting the right professional for you will smooth the process and grant you a perfect wedding day, leaving you just this task, the most important one: be happy and enjoy your day to the full.
An increase of non-professional wedding planners along with a lack of understanding by some clients regarding the meticulous work wedding planners face, still make people unsure whether it is necessary to hire these professionals. If you belong to the group of people who still question the benefits of hiring a wedding planner, I urge you to go through all the reasons why you should do so.
1)First of all, wedding planners are problem solvers
Planning a wedding is a continuous process of managing and solving all sorts of problems. But your wedding planner will not only sort out all issues, but also foresee and prevent them. They will provide honest advice and full-time assistance; they will guide you and support you every step of the way, so that everything turns out the way you want. They will simplify things for you and make the preparation process more bearable.
2) Advice to organize your wedding
When you picture your wedding, hundreds of ideas come to mind – most times unconnected ideas; the things you've seen on Pinterest, Instagram, at our friends' weddings, on wedding blogs … With so much information around, knowing what you really want is no easy task, but it is even more difficult to know where to start. First of all, the wedding planner should help you find out the kind of wedding you want and then will create it and bring it to life. How? Getting to know you, capturing your vision, providing inspirational ideas, making sure everything is in perfect harmony and beautifully styled, creating a theme, to put together every piece to create a consistent and evocative decor. Getting impartial advice from these professionals will give you peace of mind, and this is the key to success.
3. They will take the stress out of the wedding of you and prevent you from feeling overwhelmed
No one better than the event planner to calm you, reassure and support you, so that you feel relaxed throughout the whole process and carry on with your normal life.
4. They will make a difficult job look easy
Thanks to their training, expertise, experience and connections they will make your wedding planning journey a pleasant one; they will take care of the choosing the right venue, negotiating terms and payment conditions with suppliers, managing every detail, arranging visits, making reservations, and so on. As they are experts in the wedding industry, therefore, they know first-hand which are the best suppliers for each couple. They will always offer you the best options, taking into account your tastes, style and budget.
5. They will save you a lot of time
Time is precious. They will do the hard work for you and save you valuable time. The difficulties inherent in the planning of any activity are mainly related to the amount of time the development and implementation take, and that is an indisputable fact! Besides, they will achieve more, better and faster.
6) They will manage the three major factors when planning your event: time, resources and budget
Meeting the deadlines, prioritizing tasks, making decisions based on available resources, without ever exceeding your budget can be a difficult task, so it is vital you leave this job in safe hands, i.e., professional wedding planners. They will adapt to your needs, timing and budget, managing resources and suppliers in the best possible way for you.
7) Results guaranteed
.They will meet and exceed your expectations and create the wedding you have always dreamed of. If you let yourself be guided by the know-how and the passion of your wedding planner, you will have the best wedding that you could have. They will deliver great results and will make sure everything turns out perfectly on your big day. You have to enjoy that day to the full, every single moment; there is no room for stress or worry. Again, you need a wedding planner to take care of the smallest details that will make your wedding look wonderful.

8) They add value and distinction
Every couple is unique and so must be their wedding. We wedding planners believe that for a wedding to be truly genuine and inimitable it must reflect the personality and taste of the couple, tell their story and somehow move everyone who attends the wedding.
9) They will make sure that your guests have everything they need
When a bride and groom picture their wedding day, they not only think about enjoying themselves, but also that their guests spend an unforgettable day. We know that it is priority to you is that the people who are going to share that special day with you feel comfortable and have a lot of fun. To do so, we need to consider the needs of everyone, either the elderly or the little ones, ensuring they enjoy every moment to the full, just like you. From choosing the best entertainment for the little ones, to preventing your ladies' heels from sinking into the lawn, and that each guest is given your wedding favour or that cone filled with rice / petals to throw over the happy couple as they leave the church. A good wedding planner knows every guest counts, so they will everything in their power to make everyone feel special and cared for.
10) They will turn the wedding preparation process into a nice and even enjoyable experience
It is common to think of the wedding planning phase as a stressful moment in your life, where you are always tensed up, running out of time, feeling stressed out… But that does not have to be that way. In fact, a wedding planner will make you enjoy not only your W-day, but also the preparation process. And you will become an essential part to the decision-making process; after all, you are a team! They will guide you and assist you at all times so that you never feel like a fish out of water. He/she will be someone to count on, someone available whenever you need him/her.

We hope you find this article useful. But whatever your decision, never forget this:
FEEL, LOVE, DREAM… AND DARE!